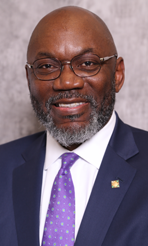 Albert G. Edwards
Founder and Managing Director
Corporate Environmental Risk Management (CERM)
Award recognizes firm's work at Hartsfield-Jackson Atlanta International Airport
In 2006, when construction was completed on Hartsfield-Jackson Atlanta International Airport's more than 9,000-foot fifth runway—making Hartsfield-Jackson the nation's only currently active civil airport to have a runway above an interstate—Tucker-based Corporate Environmental Risk Management (CERM) was among the firms that made the $1.28 billion project possible.
CERM has since been a participant in numerous other Hartsfield-Jackson projects, including the construction of the airport's international terminal, completed in 2012. CERM founder and managing director Albert G. Edwards was recognized March 30 for CERM's contributions to what has been called "the world's busiest airport" with a 2021 Legacy Award at the airport's annual ATL Next Industry Day.
According to an announcement from the airport, the leadership award recognizes an individual who "embraces diversity and inclusion; applies innovative practices and consistently demonstrates outstanding commitment toward the utilization, growth and development of small, minority and female owned" businesses. "The Legacy Awards themselves carry forth the vision of diversity and inclusion championed by [Maynard H.] Jackson, Atlanta's first African American mayor," the announcement continued. Jackson was mayor of Atlanta in 1977 when construction began on the present midfield terminal, at the time the largest construction project in the South, costing $500 million. Jackson's name was added to the airport's name following his death in 2003.
The Maynard H. Jackson Jr. Legacy Award is the second major recognition in the past seven months for CERM, which in August 2020 was named the U.S. Department of Commerce's Minority Business Development Agency's Minority Construction Firm of the Year.
Although the Legacy Award is an individual recognition, Edwards said credit is due his staff of more than 100 employees, many of whom, like Edwards, are graduates of Historically Black Colleges and Universities.
A graduate of Mississippi Valley State, Edwards jokes that he initially intended to "major in football," but mentors he met in high school through a U.S. Army Corp of Engineers program designed to attract minority-group students to engineering and other technical fields convinced him he could succeed at earning a technology degree while playing football. In the same program he met a man who became his friend and business partner, Marcus L. Reese. Edwards and Reese founded CERM in 1995 and remained partners until Reese's death in 2017.
"This is a two-fold honor," Edwards said. "I was privileged to get to know Mayor Jackson and to see firsthand the work he did to include people of all backgrounds in development of the city and the airport. To receive an award named for him means a lot. The award also helps validate the incredible work the CERM team does to deliver top-tier results to clients and business partners while also serving the community overall."
Edwards said with the award comes a "thank you" to the DeKalb County community that supported him and his partner as they started the business more than 26 years ago. "We have been in DeKalb the entire time, and such organizations as the DeKalb Chamber of Commerce and the South DeKalb Business Association have backed us up and believed in us all the way. Now, most of our workforce is from DeKalb and we work every day to show the community that their faith in us has been justified."
While CERM, which according to its website provides "customized solutions to its energy, environmental, facilities, federal, transportation, and water resources clients throughout the Southeastern United States," remains headquartered in DeKalb County, it now has branch offices in Alabama and Florida. Edwards said that participation in the environmental impact statement and quality assurance aspects of Hartsfield-Jackson's fifth runway project provided experience that led to formation of the company's aviation division and work at other airports, including DeKalb Peachtree, the state's second largest airport.
Edwards, a native of Pritchard, Alabama, said as a person "from humble beginnings" he finds it important to help others of similar backgrounds to find success in technical fields. He said his company has a program to support young people from underrepresented communities seeking careers in the industry.
Original story published in the Champion Newspaper on April 8, 2021.  The author of the article is Kathy Mitchell.