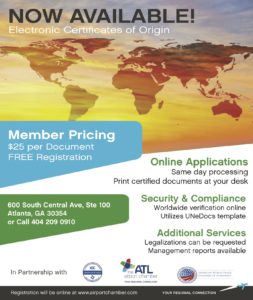 The ATL Airport Chamber, in partnership with the American World Trade Chamber, provides an online Certificate of Origin program.  Through this program, our membership can create, submit, and print electronically certified documents from their desks.  Electronic Certificates of Origin provide easier, faster Customs clearance and productivity gains for companies.
What is a Certificate of Origin?
A Certificate of Origin (CO) is an important international trade document attesting that goods in an export shipment are wholly obtained, produced, manufactured, or processed in a particular country.  COs also constitute a declaration by the exporter.
Millions of COs are issued every year, facilitating trade around the world.  Since as early as 1898, Chambers of Commerce has been issuing non-preferential COs and, more recently, closely working with Customs authorities, issuing preferential COs.
Virtually every country in the world considers the origin of imported goods when determining the duty that will be applied to the goods or, in some cases, whether the goods may be legally imported at all.
Also, COs may be needed to comply with letters of credit, foreign customs requirements, or a buyer's request.
Electronic Certification
The ATL Airport Chamber now offers electronic certificates of origin.  Download the Client Registration Form and save it to your desktop.  Email form to:  [email protected].  Once the chamber receives your form, the American World Trade Chamber of Commerce (AWTCC) will email your login credentials and a User Guide for the electronic certificate of origin system.  Once you have your credentials, accounts can be accessed here.
Frequently Asked Questions
Q: Can Certificates of Origin be processed electronically?
A: YES! Completing your Certificate of Origin online through your local Chamber of Commerce helps eliminate the likelihood of errors. Also, key information is stored, allowing for repeat Certificates to be created without the need for repetitive form filling.
Q: Can Freight Forwarders, Exporters, or Agents stamp Certificates by acquiring and applying the Chamber seal?
 A: NO! This is not an acceptable practice for processing a Certificate of Origin.
Q: Who determines whether a Certificate of Origin is required?
 A: The responsibility to comply with the requirements of the importing company rests with the exporter – not the Chamber. It is also the exporter's responsibility to obtain the Certificate of Origin, in accordance with the buyer's requirement.