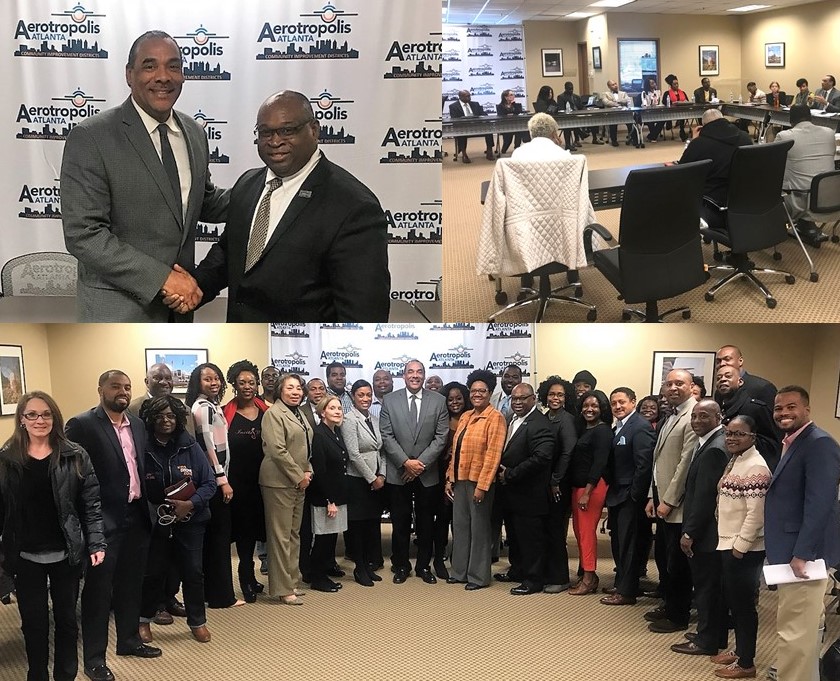 Aerotropolis Atlanta Alliance and CIDs host Bruce LeVell of the U.S. Small Business Administration's Office of Advocacy
(Aerotropolis Atlanta) While the overall economic outlook for the area surrounding the world's most-traveled airport remains strong, one federal government representative encouraged local corporate and community leaders this week to continue actively engaging small businesses.
The Aerotropolis Atlanta Alliance and Community Improvement Districts (CIDs) on Monday hosted a special meeting with Bruce LeVell, Region 4 Advocate with the U.S. Small Business Administration's Office of Advocacy. Levell focused his remarks on the impact of small businesses as a major force for the region's overall success.
LeVell also encouraged community advocates to monitor economic indicators to ensure that small businesses have a voice in regulatory reforms, and he presented details on U.S. Small Business Administration resources for local employers.
Aerotropolis Atlanta Alliance Chairman Shannon James said LeVell's visit underscores the importance of the greater airport area in driving economic growth in metro Atlanta and the state of Georgia. James said the Alliance's economic development, education and workforce development efforts support area small businesses.
"Just as our nation relies on small businesses, the Aerotropolis is dependent on continued growth for our locally focused employers," James said. "The Alliance is committed to promoting efforts ensuring that the Aerotropolis has a jobs-ready workforce to accept any opportunities offered by employers, regardless of their size."
Gerald McDowell, Executive Director of the Aerotropolis Atlanta CIDs, said small business leaders regularly provide their insights on planned improvements. Most recently, McDowell said employers participated in development of the AeroAtl Greenway Master Plan – a comprehensive trail connecting communities surrounding the airport.
"We appreciate the insights that Advocate Bruce LeVell shared for making Aerotropolis businesses even stronger," McDowell said. "We are better prepared to direct our commercial representatives to available resources. Anything we can do work in cooperation with employment growth is a great benefit for the Aerotropolis as a whole."