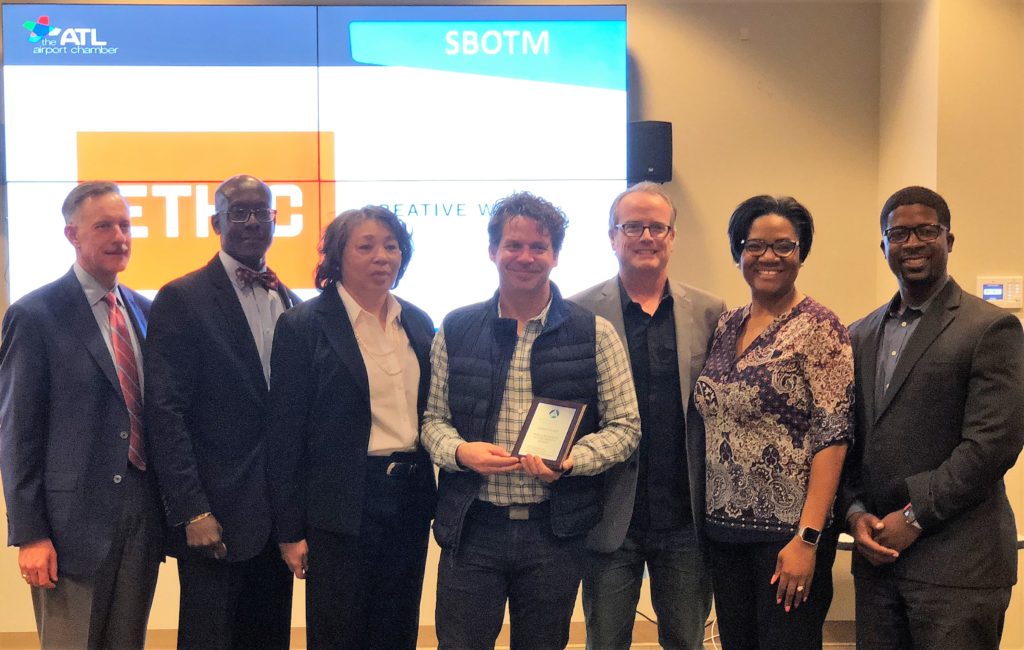 Aerotropolis Atlanta Alliance, ATL Airport Chamber recognize branding agency
May 8, 2018 (Aerotropolis) – The Aerotropolis Atlanta Alliance, in partnership with the ATL Airport Chamber, announced Ethic Inc. as their latest "Small Business of the Month" award winner.
Under the leadership of founder Wayne Whitesides, the 16-year-old Ethic Inc. provides branding, brand management, web design, identity development and collateral design. Whitesides said his agency's Aerotropolis location is part of what makes them stand out.
"We'd been leasing offices in a Civil War-era wagon factory, and even an old taxi stand, when we decided to purchase a building in East Point," Whitesides said. "Ethic's office is minutes from just about anywhere in Atlanta, including Hartsfield-Jackson Atlanta International Airport, and we're one block from MARTA. If you want your business to be connected and mobile, you can't pick a better location."
"We believe that good design and a strong identity is what businesses need to establish a voice and communicate a message," added David Leedle, creative director for Ethic Inc. "We call it design that works, and that's a genuine fit with everything that's going on in the Aerotropolis region."
Shannon James, chairman of the Atlanta Aerotropolis Alliance, said Ethic Inc. and its award-winning team of professionals are a dynamic part of the Aerotropolis region's economic landscape.
"Ethic is a great example of the types of businesses that make the Aerotropolis the region to be. We are literally connected to all of Atlanta and the rest of the world," James added.
"Ethic Inc.'s award is based on David's and Wayne's commitment to constant innovation in promoting their clients' brands and business, in much the same way the ATL Airport Chamber works on behalf of its members," said ATL Airport Chamber President and CEO Carmenlita Scott. "Their business landed in the Aerotropolis and has truly taken off." 
The Aerotropolis Alliance and its partner agencies select a Small Business of the Month to publicly recognize the businesses that have longstanding connections to the Aerotropolis region, and that help define Metro Atlanta's most economically active area. Each monthly winner will be considered for the Small Business of the Year award and recognized at the State of the Aerotropolis annual Breakfast in December.
###
Photo cutline (left to right) –
Dr. Stuart Gulley of Woodward Academy, Atlanta Aerotropolis Alliance Board Member; Artie Jones III, Economic Development Director for the City of College Park; Carmenlita Scott, President and CEO of the ATL Airport Chamber; Wayne Whitesides, Founder of Ethic Inc.; David Leedle, Creative Director for Ethic Inc.; Deana Holiday Ingraham, Mayor of East Point; and Shannon James, Chairman of the Atlanta Aerotropolis Alliance.